Park & Groove | Winter Edition - Holiday Vendor Market
November 22, 2023 05:30 PM until December 27, 2023 08:30 PM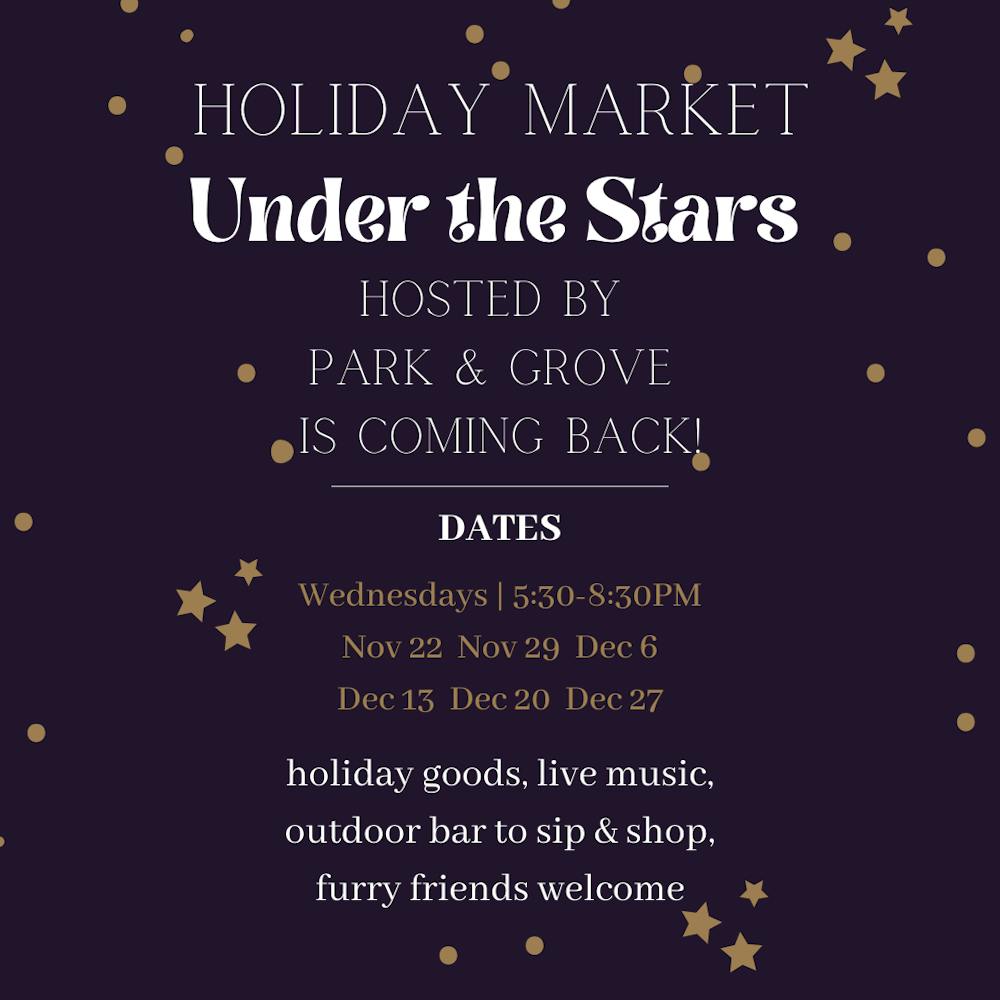 Join us for a starlit holiday season at Park & Grove every Wednesday from 5:30 - 8:30pm. Enjoy live music, our outdoor bar, and a variety of unique goods from local vendors, perfect for gifting. Don't forget to bring your furry friends – they're welcome too!
Whether it's a girls' night out, a romantic date night, or a casual evening with friends, we've got the perfect setup to keep you entertained and well-fed. See you there!
Walk-ins welcome, reservations encouraged. Make yours today through Resy here.
VENDORS:
11/22
Livbellavita (jewelry)
Lowcountry Eclectic (houseware, clothes, antiques)
Adam's_thriftfinds (vintage clothes)
Shop your own roots (clothes)
Shmazzy Threadz (hand painted clothes)
Embellished Premium (vintage clothes)
Retro Leo (vintage clothes)
Cinder and Loam (candles)
Rooted in Charleston (Plant Bus)
Jessica Hamilton (children's books)
Brooke Callery Art (art and prints and fabrics)
Todd Bless Y'all (art/paintings)
11/29
Livbellavita (jewelry)
Lowcountry Eclectic (houseware, clothes, antiques)
Shmazzy Threadz (hand painted clothes)
Link & Lou (permanent jewelry)
Petrichor and Gold (pottery)
Candle Damsel (candles)
Lula and Sol (homeware)
Plant.popz (plants)
Bindl Shop (coastal products and trinkets)
Brooke.atwood (photography - photos & frames)
Astilbe Floral (dried Wreaths & florals)
The Sparkle Bar (hair tinsel)
12/6
Adam's_thriftfinds (vintage clothes)
Lowcountry Eclectic (houseware, clothes, antiques)
Shmazzy Threadz (hand painted clothes)
Link & Lou (permanent jewelry)
Petrichorandgold (pottery)
Picks and Palms (houseware & plants)
Embellished Premium (vintage clothes)
Lula and Sol (homeware)
Brooke.atwood (photography - photos & frames)
Simply Savanna Co (artist - bikini paintings)
Rooted in Charleston (plant bus)
Brooke Callery Art (art and prints and fabrics)
Shop Mel and Pete (jewelry and holiday goods)
12/13
Adam's_thriftfinds (vintage clothes)
Lowcountry Eclectic (houseware, clothes, antiques)
Shop your own roots (clothes)
Shmazzy Threadz (hand painted clothes)
Candle Damsel (candles)
Picks and Palms (houseware & plants)
Lula and Sol (homeware)
Skylar Scott Designs (dresses)
Styled By Leni (houseware)
Bindl Shop (coastal products and trinkets)
Open Road Vintage (vintages clothes)
Brooke.atwood (photography - photos & frames)
Holy City Heart of Gold (jewelry)
Brooke Callery Art (art and prints and fabrics)
12/20
Little Vices Studio (stained glass)
Adam's_thriftfinds (vintage clothes)
Lowcountry Eclectic (houseware, clothes, antiques)
Lauren Ridenour Art (painted clothing)
Picks and Palms (houseware & plants)
Styled By Leni (houseware)
Bindl Shop (coastal products and trinkets)
Brooke.atwood (photography - photos & frames)
Holy City Heart of Gold (jewelry)
Anna Chen Art (art and prints)
The Sparkle Bar (Hair Tinsel)
Butter Me Up Bakery (sourdough bread)
12/27
Evergarden Shop (handmade jewelry)
Little Vices Studio (stained glass)
Adam's_thriftfinds (vintage clothes)
Lowcountry Eclectic (houseware, clothes, antiques)
Lauren Ridenour Art (painted clothing)
Retro Leo (Vintage Clothes)
Butter Me Up Bakery (sourdough bread)
Gold Bird Collective (permanent jewelry)